Nephrite
Nickname(s)

Neph, Nephy

Epithet(s)

TRIGGERED

Alias(es)

Psycho, Stabby McUseless

Characteristics

Species

Gem.

Template:H:title

Gem

Ethnicity

Gem

Citizenship

Gem

Template:H:title

No

Religion

No

Gem Weapon

Synth-Sword

Weaponry

Synth-Sword(See 'Abilities' for more info), knives, sometimes normal swords, anything she can stab with

Sex

File:AsexualIcon.png Asexual

Gender Identity

Female

Gender

Feminine

Pronouns

Feminine

Romantic Orientation

Panromantic, but self-proclaimed as Aromantic

Appearance

Clothing

Chinese-inspired

Accessories

Various bracelets

Piercing(s)

Ear piercings

Eyeshadow

Dark pink

Traits

Blood Color

Red

Handedness

Righty

Walking Style

STRUT

Typing Quirk

Forgets to punctuate

Dance Style

Jazz?

Speaking Style

Speaks in a sort of sing-song, taunty voice

Fighting Style(s)

STABBY STABBY STABBY!

Accent

Chinese

Skin

Pinker than normal Caucasian human skin

Color Scheme

Red

Height

Slightly taller than Jade.

Hair

She's got the awesome hair of this fabulous fellow ( http://i.imgur.com/tuWJcsD.png ) Who is also known as Nephrite. Her hair changes color based on her mood.

Hairstyle

WAVY AND FABULOUS

Eyes

Her eyes change color as her hair does.

Fuser(s)

Being Triggered by Pointy Things

Gemstone

Jade(Nephrite)

Gem Location

On her right cheek, the bottom part of Jade's gem on the other side of her face.

Professional Status

Affiliation(s)

Homeworld(formerly), Crystal Gems(not really she's kinda neutral)

Previous Affiliation(s)

Homeworld

Occupation(s)

Being a shiny stuff collector, Being a psycho part-time

Team(s)

She's kinda split. She used to be in a team with two other gems, Jadeite and Zoisite, but [this] Zoisite died in the war.

Personal Status

Status

Active/Alive?

Family

Her and Jade have the same gemstone, so they are sisters, of sorts.

Enemies

Jade (Sometimes), Pretty much everyone (When she's not sane)

Residency

Beach City

Friend(s)

Jade(Mostly), Moiss(Mostly), Amber(Sometimes)

Media

Theme(s)

InSAniTy-Vocaloid Monster-Skillet

Creator(s)
Fusion Song(s)

The music of 'Game of Life' cuz awesome.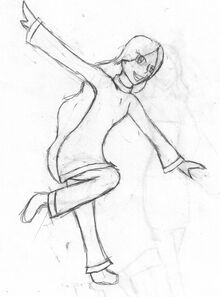 Appearance
See Picture
Personality
If she is sane, she acts in a similar way to Amber. Except she's smart. Amber is less smart. She is very prideful of her hair and occasionally comments that her hair, unlike Jade's, is fabulous. If her hair is cut short by ANYTHING or ANYONE except for herself, well, you know Jesse from Pokemon?... A seviper bit her hair and it took off most of her hair... and she beat it senseless... .... Sigh. It's hard referencing something no one gets.
Abilities
A glowing sword, known as a synth-sword, is her gem weapon, and it is very strong, and though it's pretty much a sword masquerading as a lightsaber, it CANNOT cut metal. Usually.
This is referring to how, when she fights, there is no fear, no hesitation, her mind is clear, but anger can oftentimes cloud it.
Her eyes and hair change color according to her state of mind. (eg. Sane/Calm = Pale Pink, Angered/Enraged = Bloodred, Insane = Magenta, Annoyed = Maroon, Joyful = Bright pink, Dejected = Dull pink, etc.)
She acts in a way people used to think bulls do. Red makes her mad when she's insane.
She's strong, but not as strong as Onyx(Relatively speaking) She's smarter than Amber (Who isn't? xD) and not quite as smart as Jade
SHE'S A FLIPPIN MERMAID SOMETIMES WHY DO I EVEN HAVE TO EXPLAIN
Relationships
Jadeite If you wanna know this part just go to Jade's page cuz I'm lazy
Fusions
Nephrite and Jade: Zoisite
Trivia
Nephrite has HAD a stabby stabby list
Nephrite has a case of

Magpie Syndrome.

Magpie Syndrome is "

an irrational affinity for shiny objects. When a highly shiny object is seen by the sufferer it often may induce a compulsive need to claim it and several minutes of staring at said object in the sun. This will later end in the sufferer pocketing the object to add to his/her collection by a sunny windowsill at home. If a shiny object is ouside of a sufferer's grasp it will usually result in an strong, though usually short-lived obsession over it.

"
As far as the real world knows, there are no Red Nephrites.
Nephrite is actually older than Jadeite, though she may not always seem that way.
Nephrite is heavily inspired by the anime "Pretty Soldier Sailor Moon" (It's the Japanese Sailor Moon) Her Hairstyle matches that of Nephrite, her eye shape is similar to Zoisite, HECK, if it weren't for Sailor Moon I would never have made Neph or Jade.
Neph is allergic to bee stings.
Ad blocker interference detected!
Wikia is a free-to-use site that makes money from advertising. We have a modified experience for viewers using ad blockers

Wikia is not accessible if you've made further modifications. Remove the custom ad blocker rule(s) and the page will load as expected.