Angel Aura Quartz
[[File:|250px]]
Nickname(s)

AA Quartz
Angel

Characteristics

Species

Gem

Gem Weapon

War Hammer

Equipment

None

Gender

Female

Age

5000+

Traits

Dance Style

???

Gemstone

Angel Aura Quartz

Gem Location

Neck
Angel Aura Quartz is a Gem belonging to the Blue Diamond's Court.
Appearance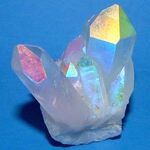 Angel wears a default homeworld uniform, customized to symbolize her allegiance to Blue Diamond. She has short, spiky blue hair with streaks of pink and yellow. Her gem glows brightly, being a mix of pink, blue, and yellow. She has a powerful build, being a quartz soldier. She has blots of pink and yellow on her arms, also glowing.
Personality
WIP
Powers & Abilities
War Hammer Proficiency: Angel is proficiently advanced with her skills at handling a War Hammer, swinging it at high speeds with little effort.
Photokinesis: Angel may control and manipulate light, making herself a living lantern.
Ad blocker interference detected!
Wikia is a free-to-use site that makes money from advertising. We have a modified experience for viewers using ad blockers

Wikia is not accessible if you've made further modifications. Remove the custom ad blocker rule(s) and the page will load as expected.